Best Stainless Steel Cookware Sets to Buy According to Professional Cooks
Best Stainless Steel Cookware Sets to Buy According to Professional Cooks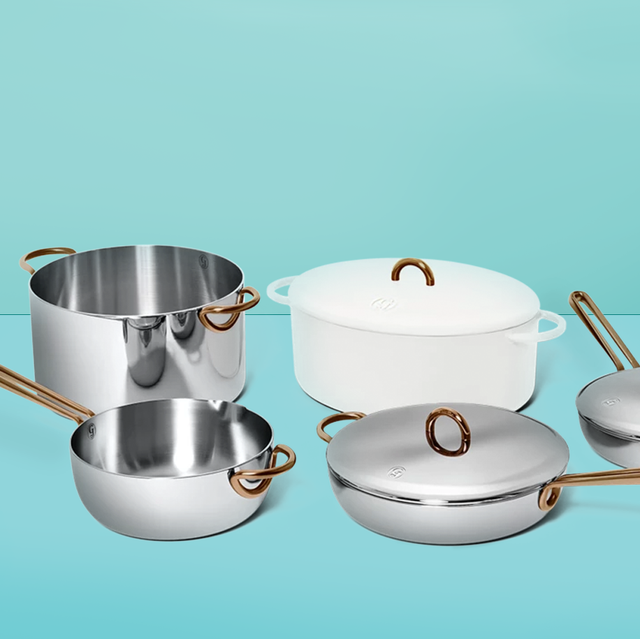 To find the best stainless steel cookware sets, researched 35 stainless steel cookware lines. We checked how well skillets distributed heat on gas and electric ranges, plus their ability to evenly brown steaks and how well the exterior surfaces resist staining. We also tested the ability of each set's saucepan to maintain a steady heat and cook tomato sauce without burring We scored each set for overall ease of use, considering the usefulness of the owner's manual, whether the cookware and its lid are oven and dishwasher-safe, and whether the handles and lid become too hot during use.
Based on our testing and our expert input, these are the best stainless steel cookware sets:
What are the pros and cons of stainless steel cookware?
Pros:

 

Stainless steel can handle very hot conducts heats evenly for foolproof cooking. Most stainless steel cookware has a core or interior made from aluminum for even heating. Stainless steel cookware also lacks a nonstick coating, which some people prefer. 
Cons:

 

Cleaning. Contrary to the name, stainless steel pans are prone to staining since food sticks to the surface more than other materials. We recommend stocking up on a

 

great stainless steel cleaner

 

such as

 

Bar Keepers Friend

 

if you want to keep them looking as gorgeous as they are out of the box.
1
BEST OVERALL STAINLESS STEEL COOKWARE SET
NanoBond Stainless Steel 5-Piece Cookware Set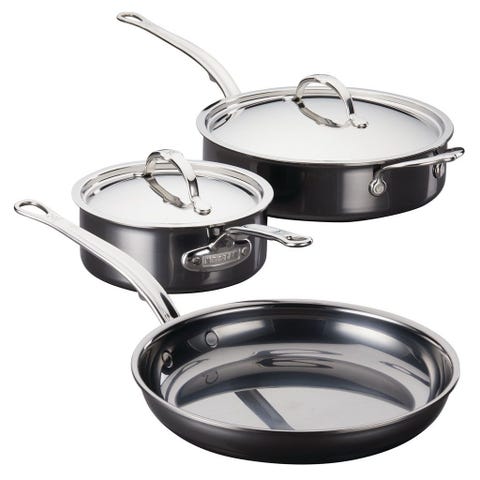 HESTAN
williams-sonoma.com
$799.95
These pots and pans excelled in our tests. They're made of ultra-strong titanium bonded to stainless steel, which makes them super durable; plus, they're oven and broiler-safe up to 500ºF so you can use them for practically anything. Steak seared beautifully and evenly, while water came to a boil quickly and sauce maintained a steady simmer that washed right off.
After testing and using the frying pan consistently, we can confidently say that barely anything sticks to these pans (even though they're not nonstick!) and they're the easiest stainless steel pans to clean. Stubborn bits just required a soak versus a ton of elbow grease like others we tested. Their silver color deepens over time but can look like new again with their special cleaner. 
Highly durable
Extremely easy to clean
Stick-resistant
2
BEST VALUE STAINLESS STEEL COOKWARE SET
Stainless Steel 7-Piece Cookware Set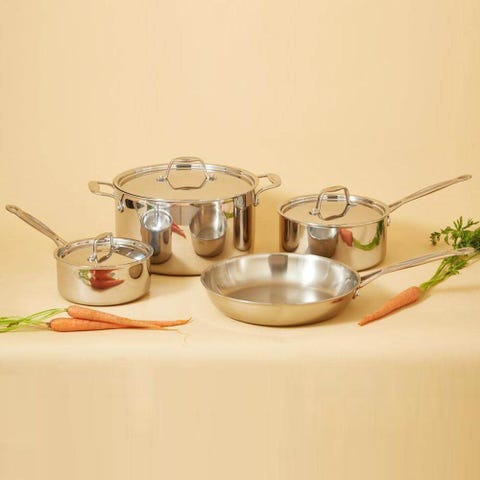 Goldilocks products are sold direct-to-consumer, so by eliminating the outside retailer they can sell top-quality cookware at a fraction of the price of many other pots and pans on the market. Their tri-ply (one layer of aluminum inside two layers of stainless steel) pieces heat super evenly, and the skillet was able to sear a steak evenly from edge to edge. This set includes all the essentials for a first-time cook or small kitchen. To step it up, check out their Essentials Bundle — you get 22 pieces for less than $300 (!). 
Budget-friendly
Excelled in searing tests
Tri-ply design
Basic set may not include enough variety for some people
3
MOST STYLISH STAINLESS STEEL COOKWARE SET
Family Style Cookware Set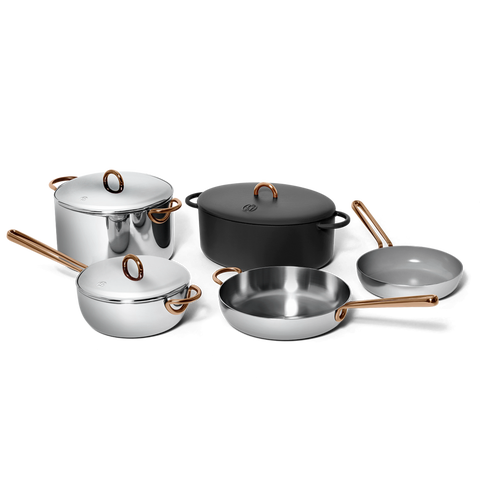 GREAT JONES
greatjonesgoods.com
$475.00
This set is both stylish and functional. It includes a small ceramic coated skillet, a fry pan with tall walls that can also be used for braising, a wide saucepan, a large stockpot and an oval-shaped dutch oven, which comes in an assortment of bold, yet muted, colors. Thoughtful design elements like a measurement markings inside the saucepan and a pour spout help this set stand out.
In our tests, the fry pan was able to sear steak well, and water came to a boil quickly in the saucepan. The handles were also comfortable to hold, though unique in its design, and they stayed cool during cooking. This set is perfect for new cooks looking to do it all – the price is hard to beat!
Versatile set
Pour spout for easy emptying
Measurement markings inside pot
Can be hard to clean when used with high temps
4
BEST STAINLESS STEEL COOKWARE SET FOR BEGINNERS
Triply Clad Stainless Steel 12-Piece Cookware Set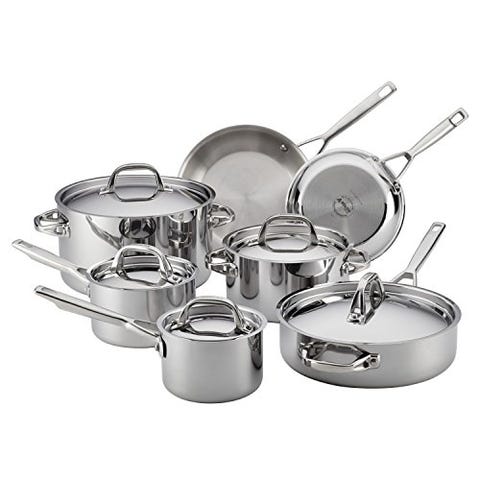 Made from three layers of stainless steel and aluminum, these pots and pans heat quickly and evenly. They have thick handles that are easy to grasp and maneuver the pans with. The lid handles are tall and wide, which also make them easy to grasp, with or without mitts. The variety of pieces in this set make for a nice assortment for at a friendly price point. The smaller stockpot especially stands out for being a good size to make soups or sauces, or boil pasta for one. 
Sturdy and comfortable to use
Includes a good assortment of pots and pans
Because they heat quickly, use a lower temperature when starting off to avoid possible burning
5
BEST STAINLESS STEEL COOKWARE SET FOR CHEFS
Starter Stainless Steel 3-Piece Cookware Kit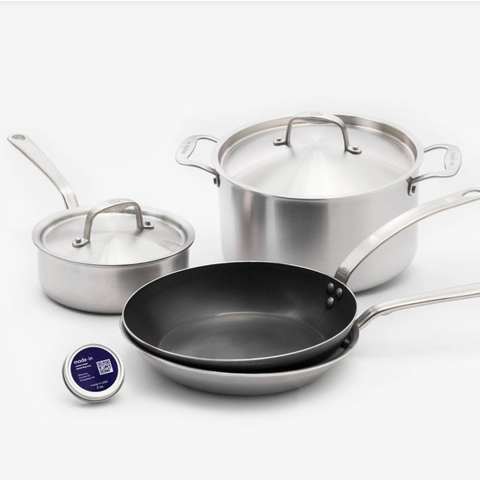 MADE-IN COOKWARE
madeincookware.com
$359.00
Made-In's solid pots and pans are five-ply, meaning they're made with five layers of stainless steel and aluminum, so they heat evenly and are super durable. They're oven safe up to 650ºF and can be use on induction cooktops, too. This smaller set comes with three cookware essentials: A 10-inch skillet, 2-quart saucepan, and 5-quart stock pot with lids. It also includes a carbon steel skillet, which is a lighter version of a cast iron skillet that heats quickly and reaches roaring temperatures. 
Includes 3 basic pots and pans
5-layer construction is durable and conducts heats well
Heavy
Carbon steel requires more maintenance
6
BEST HIGH-END STAINLESS STEEL COOKWARE SET
D5 Brushed Stainless Steel 5-Ply 10-Piece Cookware Set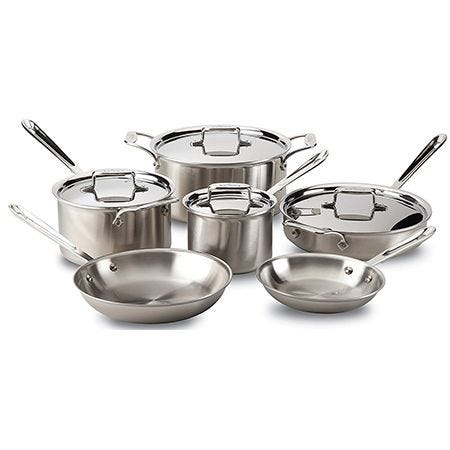 ALL-CLAD
amazon.com
$799.90
All-Clad's D5 line features five alternating layers of stainless steel (for top-notch durability) and aluminum (for even heating). They're top-quality with strong, angled handles that stay cool and tight-fitting lids. Their 18/10 stainless steel interior helps with sticking and the exterior is brushed, which helps eliminate fingerprints. All-Clad's pots and pans have excelled in previous Kitchen Lab tests, with saucepans that boiled water quickest and frypans that offer quick, even heating.
Top-of-the-line design
Includes five layers of steel and aluminum
7
EASIEST-TO-CLEAN STAINLESS STEEL COOKWARE SET
Stainless-Steel 10-Piece Set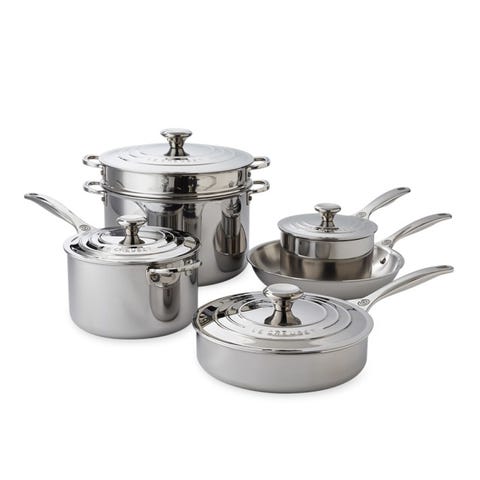 LE CREUSET
williams-sonoma.com
$710.00
With Le Creuset's Stainless Steel cookware, you can crank up the heat and brown a batch of sirloin steaks to perfection. The beautiful pieces have ridged lids to match the company's iconic cast-iron pots and pans, as well as round knobs and thick handles for easy handling. The set is also stick- and stain-resistant and infused with titanium so it will keep its good looks for years to come. For a set with two nonstick pans, consider the 12-piece set, which includes an 8-inch and 12-inch nonstick skillet. (The 10-inch performed the best in our nonstick skillet test!)
Sturdy design
Comfortable to hold and move around
Only includes one 10" frying pan
8
MOST VERSATILE STAINLESS STEEL COOKWARE SET
Full Cookware Set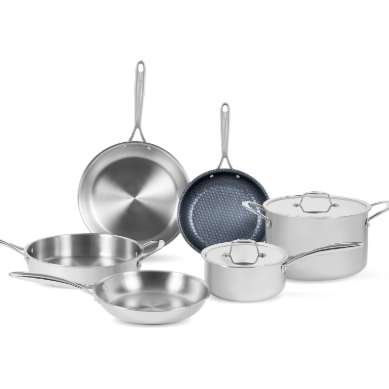 SARDEL
sardelkitchen.com
$690.00
When three brothers team up with a third generation family business in Italy to make cookware, you trust that the product is going to be good – and the Sardel line does not disappoint. The pots and pans are 5-ply, meaning they are made up of five layers of metal created to heat quickly, evenly, and provide durability. The handles are hollow, which helps keep them cool, and comfortable to hold. In our tests, the nonstick pan worked well: We were able to use a minimal amount of oil to fry eggs with no sticking. 
5-ply
Includes a variety of different sized fry pans and one nonstick
Advertiser Disclosure: www.chmealeon.com is a participant in the Amazon Services LLC Associates Program, an affiliate advertising program designed to provide a means for sites to earn advertising fees by advertising and linking to Amazon.com. As an Amazon Associate we earn from qualifying purchases.
Additionally, www.chmelaeon.com participates in various other affiliate programs, and we sometimes get a commission through purchases made through our links. Amazon and the Amazon logo are trademarks of Amazon.com, Inc., or its affiliates. We do not specifically market to children under 13.
  Disclaimer | Affiliate Disclosure
---