Best Foot Spas Baths to Soothe Tired, Achy Feet Buy From Comfort of Home
10 Best Foot Spas to Soothe Tired, Achy Feet From the Comfort of Home
Soak away the pain with these affordable, top-rated machines.
Going to the salon once or twice a month for a pedicure may feel like a sweet treat, but let's be honest, your feet deserve much more pampering than that. To the rescue: at-home foot baths and spas! After long bouts of walking, standing all day, or even cramming your toes into pointy pumps, giving your achy feet a warm soak can make all the difference.
Think about it: Your feet do so much for you—and not giving them the care they deserve can lead to pain and other problems, like bunions or foot odor. Fortunately, using an at-home foot bath or spa can help remedy some of those woes. According to Harvard Health experts, keeping your feet clean and soaking them regularly can reduce health issues caused by harmful bacteria or fungus. Foot baths can also soften up calloused skin, and some even have massage or vibration features to ease muscle tension in tandem with the warm temperature.
Just keep in mind it's also important to properly dry your feet afterward, as bacteria and fungi easily survive in wet environments. That's also why you should disinfect your foot bath regularly—a dirty machine only spells trouble. (The Environmental Protection Agency has a great cleaning guide here.)
Ready to turn your home into a relaxing spa? Check out the top-rated foot baths below—we promise your tired feet will thank you. (Oh, and pick up a quality foot cream, while you're at it.)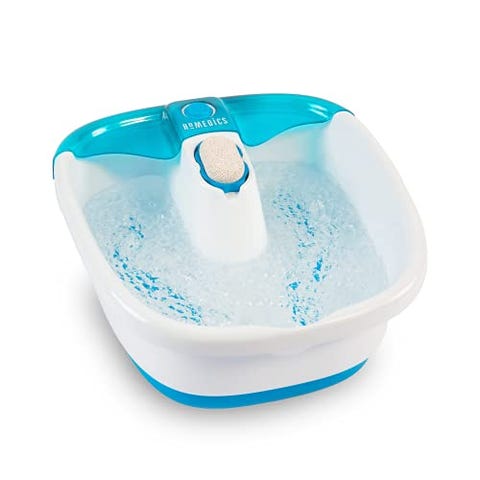 Homedics
amazon.com
$24.99
This foot spa is favored by many for its toe-touch control, which allows you to turn it on and off without getting your hands wet. It has a splash guard to prevent water from getting everywhere and a removable pumice stone to help buff away calluses. "I love using it with a tea tree oil added as it is very relaxing and great to use before giving myself a pedicure," one reviewer wrote.
2
Heat Sense Foot and Pedicure Spa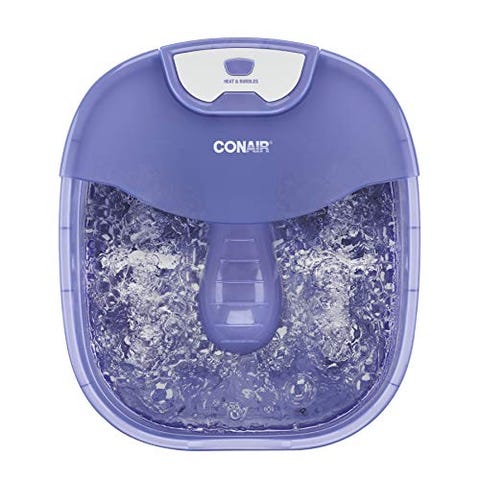 It's not hard to recreate a spa-like experience at home, especially with the help of a heated foot spa like this one. Featuring two foot massage rollers, a toe-touch button, and a special heating element that can warm up the water up to 104 degrees Fahrenheit—this pedicure spa is perfect for those with achy and tired feet. Bonus: It comes with pumice and nail brush accessories to help elevate your experience.
3
Bubble Bliss Deluxe Foot Spa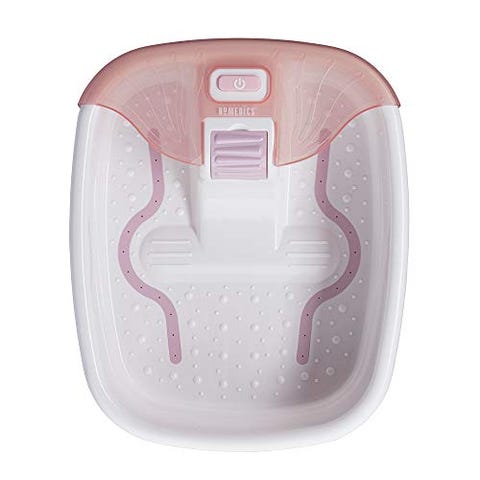 This pink deluxe foot spa has three acupressure attachments that allow you to customize your massage and spa experience based on your needs. The raised nodes are also great to run your feet over for a gentle foot massage. Plus, you won't have to worry about bending over to turn the machine on and off, the power button is designed to be used by your toes for easy control.
4
Portable Heated Shiatsu Foot Bath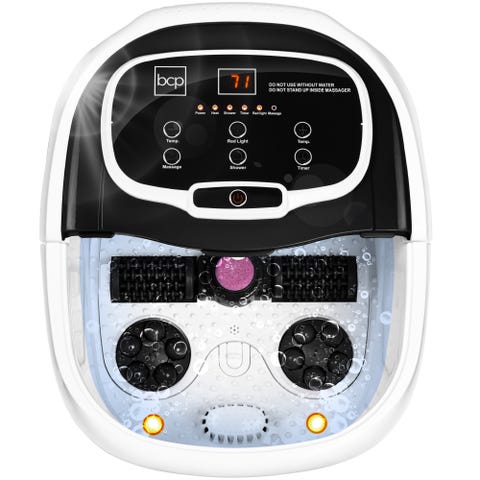 Best Choice Products
walmart.com
$69.99
If you can't bring yourself to splurge on an hour-long shiatsu massage at the spa, check out this portable heated shiatsu foot bath instead. It includes automatic motorized massage rollers, a soothing fountain shower, and a red light therapy function that promotes healing and rejuvenates your feet. Plus, there's an adjustable 10 to 60-minute timer that lets you set it and forget it as this massager's many functions melt your stress away.
5
4-in-1 Foot Spa/Bath Massager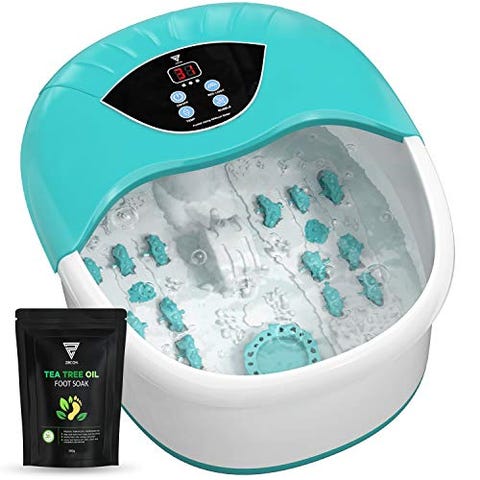 This quality foot spa and bath massager features a built-in water heating tool that lets you control the temperature of the water, making it easy to get hot water and keep it warm for as long as you want. The best part? It comes with foot soaking salts, as well as eucalyptus and peppermint oils for the ultimate spa-like experience at home.
6
Collapsible Large Foot Soaking Tub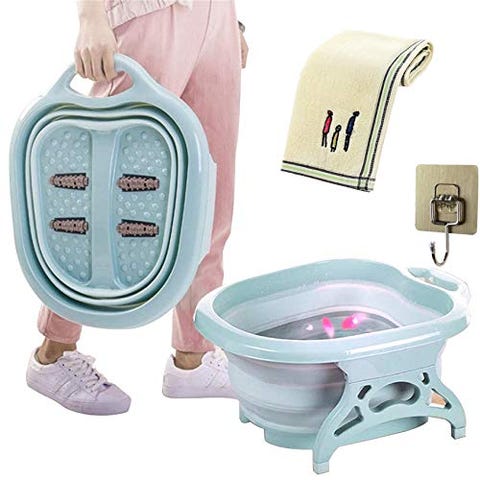 Looking to save space? A collapsible foot basin option like this one is just what you need. It has four massage rollers and a nonslip hanging handle you can use to carry it around or to store it on a wall. "I like this foot soaking tub. It has a massage pattern at the bottom, it's foldable, so I can carry and use it while traveling. It helps me get rid of all my stress at the end of the day," writes one reviewer.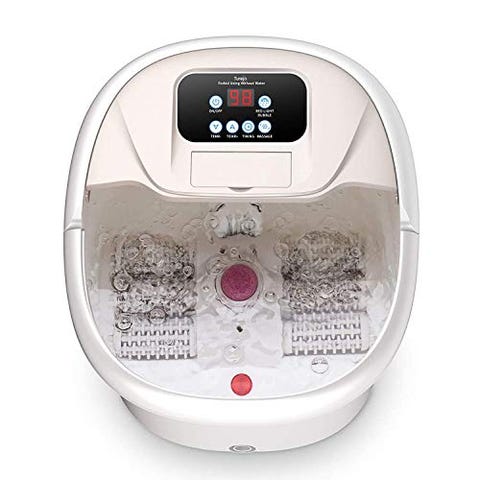 Turejo
amazon.com
$129.99
$102.99 (21% off)
With over 200 five-star ratings, you won't want to pass up on this heated foot spa. It has six automatic massage rollers, infrared light therapy, an auto-rotating pedicure stone, and speed heating to make sure your feet aren't sitting in cold water for too long. When you've finished with your soak and it's time for clean up, you can use the handle to carry it to your bathtub and push on the auto drain button to empty the water easily.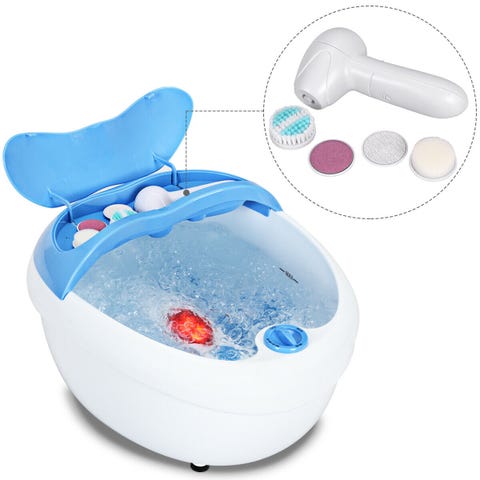 Costway
walmart.com
$45.99
Give your feet some TLC with an all-in-one foot bath. Featuring multi-functional heating therapy, an oxygen bubble massage, high-frequency vibration massage, roller massages, and red light therapy, this pick offers everything needed for a self-care foot bath day. It also comes with a separate foot cleaner and four attachments you can use to remove dirt, exfoliate dead skin, and scrub away calluses.
9
Foot Spa/Bath Massager With Heat Bubbles Vibration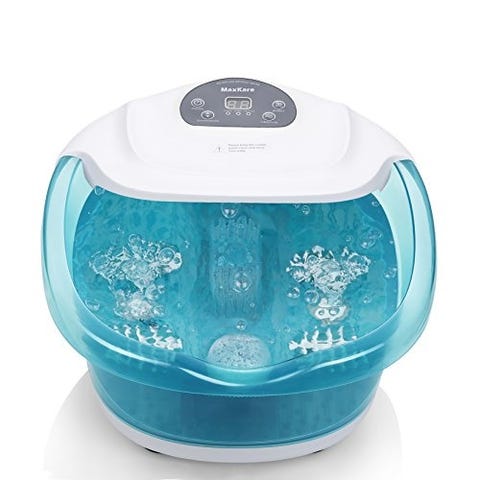 MaxKare
walmart.com
$74.19
In need of some comfort after a long and sweaty run? Treat your feet to this heated bubble foot spa, featuring a bubble and vibration function that releases warming bubbles to stimulate your foot's trigger points and speed up water heating. The bucket can also fit up to a men's 15 shoe size.
10
Invigorating Pedicure Foot Spa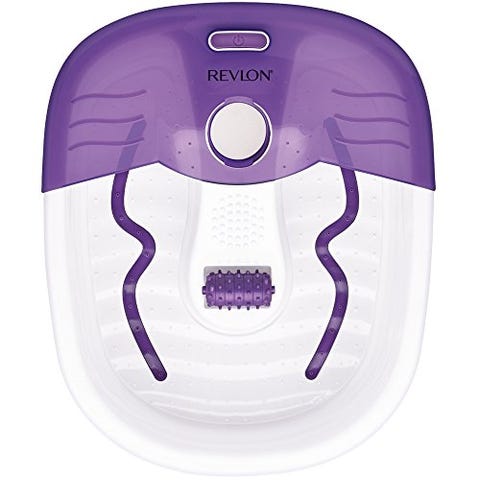 Calling all pedicure lovers! This purple Revlon foot spa is just for you. It's specially designed to effectively promote blood circulation, relieve fatigue and rejuvenate achy feet. Some of its features include a massaging roller, a removable pumice stone to soften your rough patches, and a five-piece pedicure kit. It also has a smart heat tool that maintains your desired water temperate and toe-touch control button for easy on and off access.
---